Photography
---
Photography is, doubtless, one of the most potential 'client-catching' parts of the promotional strategy of your business.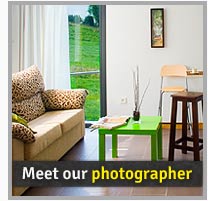 Do you really want to resign yourself to mediocre photographs, that show a dark, lifeless and graceless place, when you can make your client die to be in your hotel? Why did you invest so much money in decorating and preparing your hotel if afterwards you will tarnish your image with poor photography work?
Oh-tel! Marketing provides a professional team, specialized in hotel photography work, enthusiastic about their job and equipped with the best technical equipment to do an amazing job that will absolutely make the difference.
And if you want to give a more attractive and professional touch to your website, we give you the chance to make microspots for web and other internet channels like Vimeo or YouTube, and TV advertising.