The 5 most common mistakes when emailing
Kliiiiing! You've go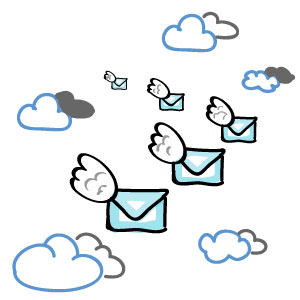 t an email – What should I do?
Many people do not pay that much attention to the way they answer their emails, and do not see the potential of a single email that can definitely convert a looker into a booker! Here I name the 5 most common mistakes I have found regarding desk answers among the hospitality-world.
1. Too late… the client is gone and sleeps at your competitor's hotel!
If we receive an email from a client, whether it is a booking request or an information question, it is very important to answer ASAP. We need to realize that the email sender is a person demanding something from us, it is a potential client looking for a hotel able to match its needs,  and he wants it now. We need to give a quick answer (faster than our competitors),  and show a professional client-caring image of our business. Would you leave a client waiting at your hotel's door for hours? I hope the answer is no. Well, this email sender is knocking at your door and if you answer a few hours later he will be gone.
It doesn't mean that you have to stop any other activity you are doing to start writing back like a maniac, but find some fixed time each day, during the less productive hours of your work time and keep your clients happy.
Apps like  Mailtank or Omnifocus can also help if you have tons of emails.
2. No personal touch – Being cold might freeze your client!
Answering emails is a dense and time-consuming labor and most of the request we receive are pretty the same. If we have loads of work and no time to answer emails then it is the time for TEMPLATES . Yes – templates are a great tool to answer general question, as far as we keep them personalized.
So, how to use a template!
Always check your text template is giving the right information, answering the exact question your future client is making.
Name you client, use the name and surname, and double check the spelling!
Instead of saying goodbye invite the client to follow the relationship with your hotel, ask him if he needs any other information, offer him a deal, and maybe other services you think he might find of his choice. (This way we also personalize it)
Only if the context is not formal (group of friends, young Corean girl, etc…) you can use a nice smiley (just one!), and make them feel closer. 🙂 – You see? Looks nice!
Remember to get back to the client as the person you are, not as a robot.
 3. Orthography, text style, punctuation… who cares? The client cares!
It's a fact. There is nothing in the world that gives me more headache than reading a non structured text with awful orthographic mistakes. We need to be clear with the information we provide, organize the contents, check the grammar and care about the written image we give.
Mistakes like misspelling the client's name, using ",,," instead of "…", or do not use punctuation marks at all, will give a bad non-professional image and might end up giving the wrong information to the the client and even shooing him.
Picture yourself getting this answer back from a hotel's request:
Dear Britny,

Thanks 4ur email, we steel have avilability in the hotel,,,,,,u can book in our website using ur cerdit kard 2 pay the 20% of ur booking and it's done, no need to worry any more. We wait 4 you here with lots of love!

Jezz
Exaggerated? – Yes. Real? – As well. Would you book there? – I wouldn't.
 4. Funny translations. 
Any worker in the hotel-tourism world should speak and write correctly in a second language (English at least), to welcome and assist clients from other countries, but it is common to find an email in your inbox written in a language you can not understand. Many people run to Google Translator, doubtless an useful tool to at least try to understand what this person wants, but also a big enemy and a false friend when it is about answering.
The translation might not express what you want to say and change the meaning of the information. You could be sending wrong information to your client.
It gives a non-professional image and sometimes even ridiculous, specially if you send an email thinking it's written in a professional way, but actually it's full of archaic words, even rude or obscene words!
So, if you get a request in Turkish, and non of your workers masters the language enough to answer properly, apologize to him and answer in English. A simple "I am sorry, I don't speak Turkish yet" it's enough to make him understand why you are answering back in English. He can also use the translator if he needs. And if you add a greeting or a goodbye expression in Turkish (Merhaba!), you will make him smile and be pleased, and you won't loose the professional image.
 5. ZERO ANSWER = ZERO CLIENTS
It also arrives that we get emails from clients that we don't need at this moment: maybe the hotel is full, we cannot provide the client's needs or maybe the client had a mistake with the email address and sent you a question about something that has nothing to do with your services, like the times of the train to go to Munich.
If you only answer the emails that are giving benefits in the present, you will loose many of the clients of the future.
Maybe the client who asked you about the train-schedule, is also looking for a place to stay, or will be looking for it in a couple of months. If he already knows about your place, and he has the memory of you taking the time to kindly answer his question, he will probably book in your hotel.
A non-replied email can make people think your business is not running anymore, or just a lack of interest on your client. Answer first the interesting emails, but answer all of them.