Perfect Post on Social Platforms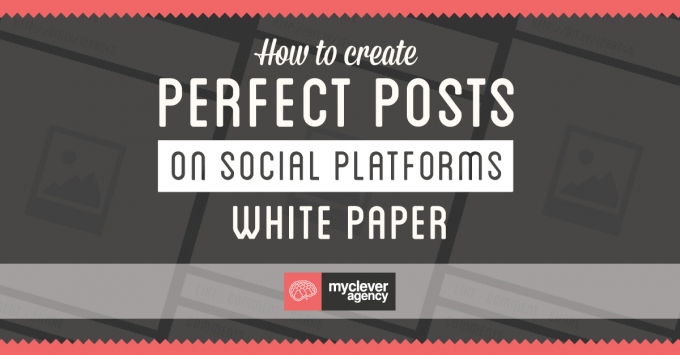 The biggest question for a social media worker is: what, how and when should I post to engage people?
Well, congratulations, today is your lucky day. Even though it takes time and effort to really find out what your target public want, the team of My clever agency has created a great guide to make it much easier for you.
Some clever tips you will find on this guide:
Facebook
More than 2 posts per day or less than 2 posts per week has
shown to lose fans and engagement so post 5-10 times a week. Time your
posts to hit when most of your fans are online using Facebook Insights.
Use "dark posts" to target new fans with engaging content
without annoying existing fans.
LinkedIn:
Use LinkedIn for targeting B2B as it has the highest referral
rate to corporate websites over Facebook and Twitter.
Post content that lends a hand by sharing your expertise,
as 6 out of 10 users are more interested in industry insights rather than
company news.
Twitter:
If you want to increase exposure and followers over Twitter
then ensure you're engaging in conversations, retweeting and sharing
links other than your own work for maximum impact.
The new updates mean you can use Twitter for customer
service better than ever. Customer service via Twitter may be public,
however, can often deliver cost savings and turn negative sentiment into
positive.
Blog:
Create a content calendar so you can plan for key events.
However also aim to regularly blog in real-time to keep your brand in the
know!
If your company can leverage reviews then reaching out to
influential bloggers could have an impact on your business, as 61% of US
customers have made a purchase after reading a blog post.
Instagram:
It's good to use popular hashtags, however, make sure
you're using tags that have relevance to your audience. You can find the
right hashtags for your brand by completing keyword research.
Try using a tool to monitor the performance of your account
and posts such as Piqora, Followgram and Statigram.
And the importance of the timing..
Optimum Timing for Social Posts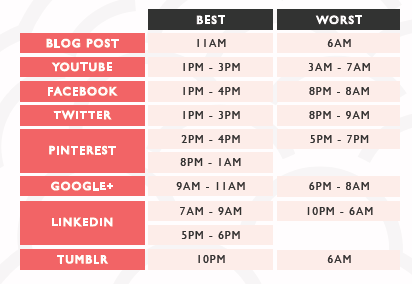 .You can download the full guide here